At Brinnick locksmiths we stock a large range of window locks for wood, aluminium, steel, and UPVC windows from leading brand names in the industry such as Chubb, Yale, Era, Ingersoll, and Union.
Many of the factory fitted casement stay and fasteners on windows are designed to just keep the window closed, and these alone do not provide sufficient security to meet modern insurance requirements for many policy holders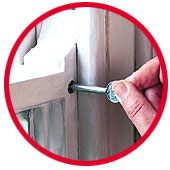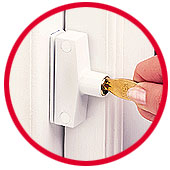 Insurance requirements for windows
The general advice given by both insurance companies and crime prevention officers is that all ground floor or first floor windows and patio doors that are that are accessable are fitted with key operated window or patio door locks. If you are in any doubt about the security of your windows or patio doors please do not hesitate to call us on 01908 617575 for free help and advice.
Sliding patio doors should be fitted with two additional key operated patio door locks as well as the standard centre lock. Patio door locks can be installed to all types of patio doors including wood and aluminium to help prevent both the forcing and lifting of the patio doors off of its track. Chubb locks also make an anti-lift device which is fitted into the top track to take up the gap to prevent the door being forced off its track.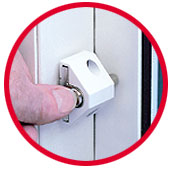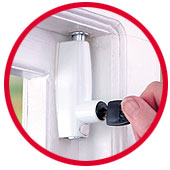 French doors should be fitted with key operated security bolts to the top and bottom of both doors as well as the central sashlock which should be a good 5 lever sashlock. The key operated bolts are either cut into the top and bottom of the door, and all that is visible is the keyhole on the inside face of the door, or surface fitted bolts such as in the picture on the right of an Era Pressbolt. Standard non locking slide bolts should not be fitted to french doors as they are not strong enough and the doors cab opened by just releasing the bolts and pushing the doors.