Collapsible Security Gates
At Brinnick Locksmiths we offer a full design specification and installation service on our range of collapsable security gates for both domestic and commercial applications.
Collapsable security gates offer both a visual and physical detterent to any would be thieves but provide a good working environment for staff as they fold back during the day. The security gates are available in a wide range of RAL colours and they also have different track and locking options to meet any requirements.
To arrange a free survey and quotation please call 01908 617575 or email us from the contacts page and we would be very pleased to hear from you.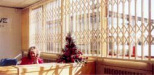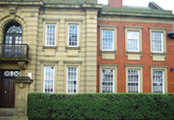 Fixed Bars and Security Grilles
Our range of fixed grilles include solid bar grilles for both internal and external use on commercial buildings. Diamond mesh grilles in a fixed frame are available in a wide range of colours. Decorative scroll design fixed grilles for the home. All of these grilles are manufactured to order so they are designed to your exact size and specification.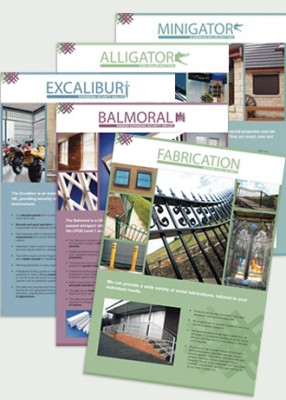 THE EXCALIBUR IS AN ESTABLISHED RETRACTABLE SECURITY GRILLE RANGE, MANUFACTURED IN THE UK, PROVIDING SECURITY WITH VENTILATION. IDEAL FOR USE IN THE HOME, OFFICE AND SHOP ENVIRONMENT.
When not in use, the grilles can be pushed back into a neat and unobtrusive "curtain".
Nylon components separate steel moving parts in order to ensure smooth and quiet operation.
Grilles can be powder coated in various colours and manufactured to meet size requirements.
Galvanised steel ensures that all grilles remain rust-free and only require minimum maintenance.
Planning permission is rarely required.
Maximum security is offered by a Multipoint locking system.
VARIABLE OPTIONS
Single Stack: Curtains folded to one side.
Double Stack: Curtains folded to both sides.
Fixed Panel: Manufactured in a fixed framework, with no lock.
Flexible Stack: The grille can be opened from either side and move left or right as required.
Whole Stack to Hinge Aside: The curtain can be made to hinge 90 degrees, in order to allow maximum visibility and access.
Hinged up or removable bottom tracks to allow for easier access.
Micromesh Security Panels
Our Micromesh security panels are perfect for areas where window glass breakage is a problem. The fixed Micromesh panels allow light through the window but prevent the glass from being broken as the panel is made of a steel micromesh. We use the visionary panel on schools and community centres to help prevent vandalism. When it is fitted it gives the impression of tinted glass from a distance, and if an object is thrown at the panel it will just bounce off. We install both the Crimeshield insurance approved product and Security Visionary panel from Henry Lewis. To see a sample of the Crimeshield Security panel or any of our grilles or gates please call 01908 617575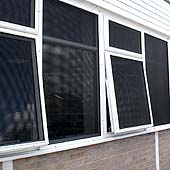 There are a wide range of roller shuuters on the market to  suit every application including steel and aluminium, electric or manual, clear or solid. We can arrange to send out our roller shutter surveyor to discuss your requirements and offer a free survey and a no obligation quotation to get the right roller shutter for your security needs.