At Brinnick locksmiths we have years of experience of the supply, specification, and installation of door closers and automated door openers to commercial customers, councils and housing associations in the area. To enable a door closer to close a door fully and at the right speed the correct door closer needs to be specified.  Factors such as the size and weight of the door, and the amount of use the door will get, must be taken into consideration. Below is a general overview of the door controls we supply and install at Brinnick Locksmiths.
If you require any assistance please call 01908 617575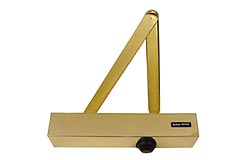 We stock the following door closers: Burg Wachter, Union, Briton, Dorma, Alpro, and Eurospec.  As a Dorma stockist we can supply the full range of overhead door closers from the extensive Dorma range of closers. Many of the closers are in stock, and if you require a specialist closer we can get it in for you in a few days. We also stock the popular range of Briton door closers from IR Architectural such as the popular Briton 2003 medium duty closer. Please give us a call for prices or specification guides.
Transom and Floor closers
Many commercial premises now have aluminium entrance doors which will have either a transom closer fitted into the top transom of the door or a floor closer fitted into a box in the floor to control the closing of the door. When these closers start to fail call Brinnick locksmiths and Security Ltd for a fast replacement service to get your door functional again.
We stock aluminium door pivots, closer arms and other parts so we can provide a same day service for any commercial door repairs.
We also design and install complete aluminum door sets if your doors are damaged beyond repair.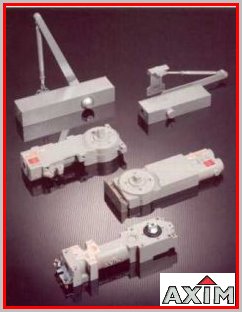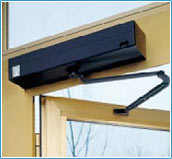 Many organisations are aware of the requirement for automated doors to be fitted to enable disabled staff full access to all areas of a building and to comply with any requirements of the DDA act. We can install door openers to existing doors from both the Ditec and Dorma ranges of door controls for both commercial and domestic customers requiring access. We are able to offer a full range of opening options including remote control fobs and push to exit buttons.
For a free site survey and quotation or further information please call 01908 617575
Light Duty Door and Gate Springs
We supply and install heavy duty gate springs and gate closers.
Other types of door and gate closers are available from stock for light duty use around the home. These range from standard gate springs, Perko concealed door closers, and the surface mounted Gibralter door closer.
So as you can see we can supply a door closer for any situation for your home or business. For further information please call 01908 617575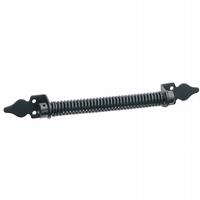 Door Operator Questions and Answers
Low energy swing door operators, such as the Ditec WEL E  are generally not fitted with safety devices, as kinetic energy levels are not considered to be dangerous. However a hazard analysis and risk assessment should be carried out to establish that the risk to these users is low. Please contact 01908 617575  if you require assistance in carrying out your hazard analysis and risk assessment.
A 240-volt AC mains spur to the left-hand side of the opening above and on the same face that each drive unit is fitted. The spur must be switched and fused with a central flex outlet faceplate. A 10 amp residual circuit breaker at the main board and a 5-amp fuse at the spur will protect the circuit. One spur is required for each single or each pair of doors.
The doors will revert to manual operation controlled by the integral spring door closer.
Due to the weight of either the Ditec WEL range of door operators and the provision of a mains power supply to the door, the unit cannot be fitted to the door. The unit must be fitted to the area immediately above the door. It is important to ensure that there is sufficient depth between the top of the door and the ceiling/soffit to accommodate the unit, (see brochure or contact 01908 617575 for specific details). It is also important to ensure that the area where the unit is to be fixed is reinforced sufficiently to accommodate the unit.
The maximum sizes for the WEL E is 1200mm, and the WEL S & WEL M is 1500mm. Further technical information is provided in the relevant product brochures. However these sizes are not necessarily suited for all applications. Please contact 01908 617575 for specific advice.
Push pads can be used for actuation instead of radar movement detectors. However the following should be considered before selecting a specific product. We generally do not recommend the use of push pads to actuate fully automatic doors used by the general public as users expect a fully automatic door to open.
Our operators can be used by the general public as standard pull or push doors using the built in door closer with the doors only being operated by remote fobs or devices when required.
There are provisions within the operator to interface with most types of access control systems. It should be noted that a suitable locking device would need to be incorporated to provide security. Due to the variation in applications and locking systems we would strongly recommend that you contact us on 01908 617575 for project specific advice.
The assembly must have an existing "goal post" frame and the doors must incorporate top and bottom rails.
Please contact Nick Williams on 01908 617575 and we can provide proposals and/or specifications, or if necessary arrange for a technical representative to visit site or your office.