Commercial and Domestic Door Locks
At Brinnick locksmiths we stock a wide range of door locks and if we do not have your particular lock in stock we can quite often get the lock in for next day delivery. The range of locks available on the market today is endless with different locks required for different applications, so this page is designed to give a general overview of the locks available. If you require further assistance please do not hesitate to call or email us for advice.
2 and 3 lever sashlocks and deadlocks generally provide a low level of security and so they are usually only installed on internal doors. They will sometimes have a key number on the key as there may only be 30 different keys to a particular make of lock. These locks are also available with rebate sets for double doors, but 2 and 3 lever locks should never be installed on any external door.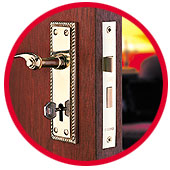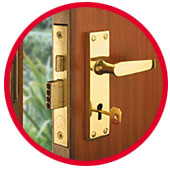 The new British Standard for 5 lever mortice locks is BS3621 2004 which has increased the level of security of 5 lever locks by increasing the length of the lock bolt to 20mm. All locks fitted to external doors should meet or exceed BS3621 to comply with current insurance policy requirements. We stock 5 lever locks from Chubb, Era, Legge, Union, Yale, and Ingersoll. We are able to "key Alike" many of the locks from these ranges in our workshop. Chubb RKS is the registered key system from Chubb locks which is on special profile Chubb key to prevent unauthorised duplication of your keys for peace of mind.
Cylinder Sashlocks and Deadlocks
Cylinder sashlocks and deadlocks give a wider scope of options for the customer as you can choose a cylinder lockcase to suit your requirements and then add the cylinder type you require ie a standard cylinder key or a registered key cylinder such as Mul-T-lock or Chubb M3. You can then choose the door furniture you require, such as brass or aluminium traditional or stainless steel commercial style door furniture.
Once again we can carry out a free survey at your premises or you can call into our shop in Newport Pagnell to see the wide range of locks, cylinders and door furniture we have in stock.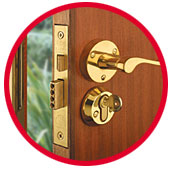 Commercial Security Locks
Chubb locks has a range of "Detainer" commercial security locks which are available on a standard 5 detainer key or The Chubb RKS System. Due to the higher risk of burglary to commercial premises the BS3621 British standard still applies to most insurance policies but insurance companies may insist on further security measures such as a safe, grilles, and alarm systems before providing cover. If you have any queries regarding your locks and insurance policy requirements please do not hesitate to give us a call on 01908 617575
Rim Cylinder Nightlatches
Rim cylinder nightlatches come in many makes, designs and options from a basic Yale 77 nightatch to the New Chubb London line high security deadlatch. The rim cylinder nightlatch is the name given to the traditional style "Yale" lock. The body of the lock is fitted on the internal surface of the door which is then operated by a rim cylinder which passes through the door to the lock body. A standard nightlatch should alway be fitted with a 5 lever lock on external doors as the nightlatch can easily be broken into if fitted by itself.
Chubb and Yale make an excellent range of British standard security cylinder rim deadlatches to BS3621 which comply with insurance company requirements.

Rim locks are locks which are fitted to the inside surface of the door and lock into a box keep fitted on the frame. These locks provide very little security but they a widely used on sheds, outbuildings and older properties. We stock a range of rim locks and we can also make keys to older locks already fitted to properties. Please give us a call for further information on 01908 617575