Pyronix Enforcer Intruder Alarms
When their homes are protected by the latest high tech burglar alarms Milton Keynes residents can sleep soundly in their beds knowing their families and possessions are as safe as they can be. We at Brinnick Locksmiths are committed to helping you keep your property secure, and that includes the best intruder alarm systems Milton Keynes installers can supply.
Door and window locks, security bars and safes are all made to be strong and repel trespassers. But in order to truly protect yourself and your loved ones, you need to know when your safety is being threatened. Burglar alarms are designed to deter intruders and allow you to take direct action to protect yourselves, whether that's fleeing from the property or contacting the emergency services. And when CCTV monitoring systems are combined with the latest and best intruder alarms Milton Keynes homes will be absolutely as safe as they can be.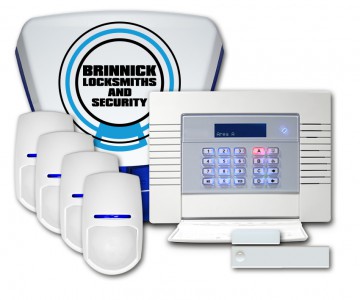 You wouldn't buy a bucket full of holes just because it's cheap. Likewise, there's no point in deciding to install an intruder alarm system, then choosing one which is outdated and vulnerable to invaders in an effort to save a few pounds. For this reason, we strongly recommend Pyronix Enforcer intruder alarms, which are manufactured using state-of-the-art technology and have proven their worth time and time again for householders across the region. The Pyronix Enforcer wireless alarm system is highly adaptable and can be configured to protect any home or property. Most importantly of all, this grade 2 insurance approved system has been designed to be tamper-proof, affording you the protection you deserve and your new Pyronix Intruder alarm system can be operated via an app on your smartphone or used as a standalone alarm system.
An intruder alarm could make all the difference when it comes to your family's safety. Why leave it to chance? To find out more about the purchase and installation of these high quality security alarms Milton Keynes residents should contact Brinnick Locksmiths today.
Pyronix Enforcer Features
The Pyronix Enforcer Wireless Alarm System (868mhz).
Brinnick Locksmiths And Security Ltd is pleased to offer the Enforcer 32WE (Grade 2) Complete Wireless Burglar Alarm Panel with Two Way Wireless for added Security. The Award Winning Enforcer is a wireless system that includes a control panel (Enforcer 32-WE), integrated keypad and a variety of wireless devices which all use the Pyronix two way wireless technology.
 Each wireless device on the Enforcer, including keyfobs, is a transmitter and a receiver, allowing the implementation of the following technologies:
•4 Areas
•32 Wireless inputs
•80 User codes
•Up to 19 User Automation Outputs
•Up to 3 Wired Keypads/Readers
•In built proximity reader
•750 Event log with time and date
•12V Auxiliary output / back up battery time 12 hours
•Pyronix two way wireless technology
 The 868MHz band has been reserved for security alarms so there will be no interference from your surroundings affecting the security and reliability of the Enforcer system.
 Domestic & Commercial Security
 The compact nature of the control panel make it ideal for discreet installations where space is limited, and because no wires need to trail around the premises, the installation time is greatly reduced.
We also service and maintain Visonic PowerMax Complete intruder alarms
For many years we have installed, serviced and maintained the Visonic Powermax complete intruder alarm systems which we now only service and maintain. We are happy to take over any systems if you require any service, maintenance or repairs carried out to your Visonic intruder alarm system.