TRUSTED LOCKSMITHS MILTON KEYNES
You wouldn't think that attempting to improve your home security could leave you stranded, but there is a new type of rogue tradesperson on the rise. Cowboy locksmiths provide quick fix 'solutions', only to keep you locked outside of your home unless you pay an eye-watering amount of money. Here at Brinnick Locksmiths, we provide a quality, reliable service that ensures families and homeowners are safe and secure.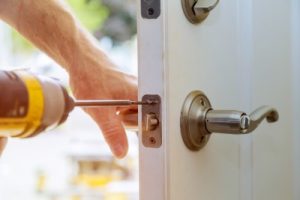 SPOTTING COWBOY TRADESPERSONS
There are many tell-tale signs you are being tempted by a rogue tradesperson. Once you are aware of these red flags, you will spot and avoid them easily. Today, we are going to look at how you can avoid cowboy traders and find the right team to help you in your time of need.
AVOID COWBOY LOCKSMITHS
RESIST ADVERTS, FAVOUR REPUTABILITY
Many tradespersons advertise their services online to show their abilities and reach their target audience. However, as you search for a trusted business, you must stay vigilant and avoid rogue sites that depend on excessive advertisements to entrap customers. Any trusted locksmiths will be visible through map listings or an organic search and have a collection of glowing testimonials from their customers.
THE RISK OF REVIEWS
While a website filled with outstanding locksmith reviews may seem like a safe choice, you should always cross-reference and check third party review sites and Google. As with any trade, you should ensure their reputation is as strong as their website suggests. If they brush off questions about reviews and previous projects, avoid them and find a reputable company.
LOW COSTS AND LITTLE INFORMATION
If you find a deal online that seems too good to be true, it is likely a rogue trader laying a trap. We keep our costs low without compromising quality. Our team is available to offer free help and advice over the phone or in our shop. We can discuss our pricing with you and explain every penny, so you know you are in reliable, trustworthy hands.
MLA APPROVED
To find the best companies near you, check online with the Master Locksmiths Association (MLA). The MLA ensures you receive the highest standard of workmanship, as members are inspected, vetted, and all staff are DBS checked. You are in safe hands with Brinnick Locksmiths because we are the only MLA licensed locksmith in Milton Keynes.
LOCAL SOLUTIONS
If you have found a company that provides services to your area, but the address listed is not local to you, this is a warning sign that you should not trust them. We provide professional, quality services to customers in and around Milton Keynes, with a listed address, contact details, and landline phone number. You should avoid any company that withholds this information or provides a vague address and mobile number only.
DEPENDABLE SOLUTIONS
We provide a range of services, including emergency, automotive, and shop-based solutions. You are always in expert hands with our friendly and knowledgeable team. We provide transparent communication and expert advice to help you secure your home or business. Find our contact details below to request our professional, trusted locksmiths and secure your Milton Keynes home with quality, dependable solutions.
CONTACT US
We provide a range of services, including securing vehicles, homes, and businesses from our shop in Newport Pagnell. To receive professional services, get in touch by completing our online form or emailing sales@brinnicklocksmiths.co.uk.
You can speak to a member of our team directly by calling our Milton Keynes number, 01908 617575, and we will be pleased to help you with your query. Discover more about us and receive expert, valuable advice by keeping up to date with the latest news on our site.